China Green Tea Chunmee 9371 All Grades
Product Detail
Product Tags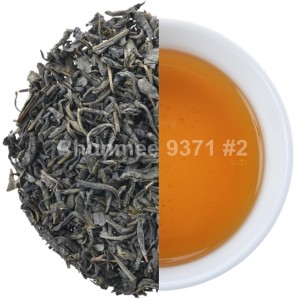 Chunmee is a pan-fired tea. Pan-fired teas have a less vegetal and nuttier flavor, that can be light or more intense, depending on how the teas was made.
In strength and color, Chunmee is quite similar to Gunpowder, but with more smokiness. Chunmee green tea has a bit more astringency than other green teas, and is suitable for drinking with sugar, honey or even milk. Because of its strong flavor, Chunmee is great for flavoring and scenting. It's often used in some African countries for making mint tea, similar to Moroccan mint tea made with Gunpowder tea leaves. This tea makes for a great daily green tea.
Chunmee Tea is a popular green tea that has a slight ''plummy'' flavour and a golden liquor. Chunmee is Chinese for ''Precious Eyebrow'', and is spelled ''Zhen Mei''. Chunmee tea is classed as a ''famous'' Chinese Green tea, which means that it is extremely popular and revered in China.''Famous Teas'' change all the time, depending on trends within China, and Chunmee is a regular contender for this coveted title.
Chunmee tea leaves are carefully hand rolled to the shape of eye-brows and then pan-fried. The pan-fried leaves produce a highly fragrant, yellow-greenish brew with a distinctive, sweet flavor, and is known for its plum-like sweetness and smoothness.
To brew Chunmee green tea you will need a teapot with a strainer and a cup, or a mug and a regular infuser or tea filter. Use about 2-3 grams of tea per cup of water. Chunmee is a strong tea and using more may give a very strong cup. Start with less leaves and adjust the amount if needed. Bring fresh spring water to a boil and let it cool to around 185°F. Water temperature for brewing green tea should never be above 194°F. Boiling water will ruin your tea and result in a very bitter cup.
Our Chunmee 9371 contained all different grades.
Green tea  |  Hunan   |  Non fermentation   |  Spring and Summer
---
Previous:
China Green Tea Fannings for Teabag
---
Write your message here and send it to us