Jasmine Silver Tips Yin Hao Green Tea
Product Detail
Product Tags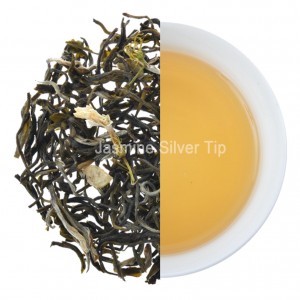 Jasmine Silver Tips Green Tea is a blend of China full leaf green tea and fragrant unopened jasmine buds. The timing of the jasmine harvest is essential to acquiring the right scent and sweetness. Jasmine Yin Hao (meaning 'Silver Tip') is a deeply perfumy green tea from the Fujian province of China. Very layered and lingering floral aroma. Soft, full-bodied and sweet flavor with a slight dryness in the finish.
This jasmine green tea has been infused with jasmine many times over to create a truly unforgettable experience, delicate green tea with a natural sweetness that is enhanced by the subtle aroma of exotic Jasmine flowers, this high-grade organic green tea with abundant silver tips is generously scented with jasmine. 
It is also known as Jasmine Silver Needle, this green tea is crafted from the first tender leaf buds of Spring. The delicate buds are scented in the summer months with fresh jasmine blossoms - when they are ripe buds at their peak. The tea and blossoms are laid out on bamboo trays over six nights, the heat and humidity of the sealed room unfurls the blossoms releasing their scent. No synthetic flavourings, no oils, nothing artificial.
A Yin Hao Jasmine style green tea, note the abundance of silver buds and rich green leaves. A small leaf varietal, it is picked early in the spring, the leaf is then indirectly dried to preserve the leaf and keep it from curling. With this base tea made, the leaves are kept cool until the jasmine flowers blossom later in the summer.
The timing of the jasmine flower harvest is critical to get just the right scent and sweetness. Then the green leaves and jasmine petals are mixed and the scenting begins. Traditionally, the spent blossoms are then removed from the finished tea. In tea that is exported, a small amount of the last scenting petals are left in the tea for show. The jasmine scent is natural, sweet and not too strong, making the tea soothing and pleasingly balanced, good for everyday use and always a relaxing cup.
---
Previous:
Jasmine Green Tea OP Natural Scented
---
Write your message here and send it to us