Organic Gunpowder 3505 China Green tea
Product Detail
Product Tags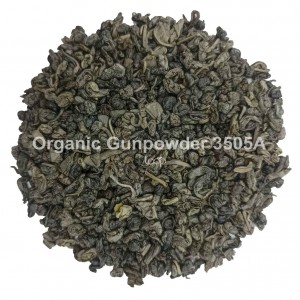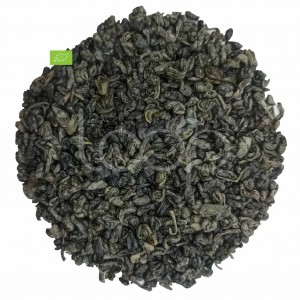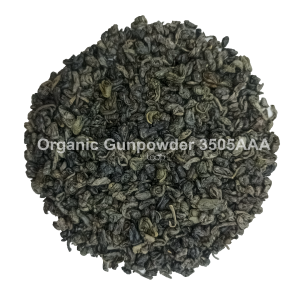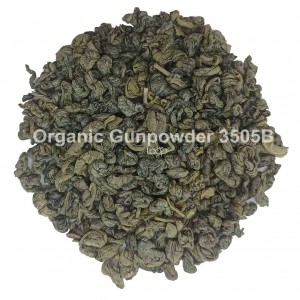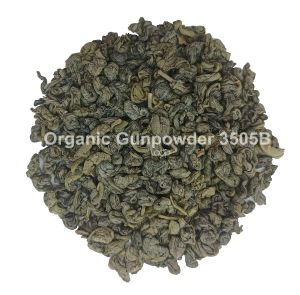 Gunpowder green tea is a traditional Chinese loose leaf green tea with a smooth sweetness and slightly smoky flavour, the ancient technique of rolling the leaves gave the tea a certain hardiness as it was transported across continents, preserving its distinctive flavour and aroma. Our loose leaf Gunpowder Green is a particularly bright, clean variety with a smooth sweetness and a smoke-tinged finish – beautiful brewed lightly for clarity of taste.
Organic Teas use no chemicals like pesticides, herbicides, fungicides, or chemical fertilizers, to grow or process the tea after it is harvested. Instead, farmers use natural processes to create a sustainable tea crop, like the solar-powered or sticky bug catchers. In contrast, conventional (non-organic) tea growers may use different types of chemicals to boost their tea harvest. Organic Tea Farming is sustainable and does not rely on non-renewal energies.  It also keeps nearby water supplies clean and free of toxic run-off from chemicals. Farming the organic way uses natural strategies like crop rotation and composting to keep the soil rich and fertile and promote plant biodiversity.
When a tea is grown and processed organically, it is free of harmful chemicals, heavy metals, and other toxins that could be detrimental on the system. Organic tea helps maintain a healthy balance of good bacteria in the digestive system and boosts the antioxidant level.
Our organic gunpowder green teas are from the mainly original tea production place in China, not only certified by BIO certificate and also the Rainforest Alliance, the grades are including 3505A, 3505AA, 3505AAA, 3505B, 9372 etc.
The way to brewing organic gunpowder tea is use 1 rounded teaspoon per person and 1 for the pot.  Boil fresh water, leave to cool for 5 minutes then pour on.  Allow to steep for 3 to 4 minutes for the perfect flavour, serve without milk, this tea may be re-steeped 2 or 3 times.
Green tea | Hubei | Nonfermentation | Spring and Summer
---
---
Write your message here and send it to us