White Monkey Green Tea Baimao Hou
Product Detail
Product Tags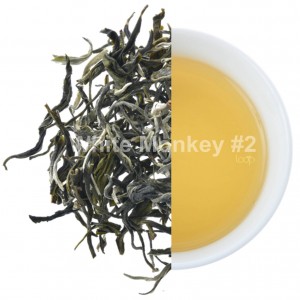 White Monkey is a green tea made from the leaves and bud of the green tea leaf when harvested during the first two weeks of the season (late March to early April). It originates from the Taimu Mountains in Fujian Province, China. The delicate leaves are carefully steamed and dried. The name originates from the appearance of the dried leaves, which are said to resemble the paw of a white-haired monkey. Due to the tea's appearance, flavor, and name, it is often mistaken for a white tea.
Bai Mao Hou White Monkey is a light green tea from Fujian Province, made from a cultivar normally used for white teas. It has a distinct sweet and woody edge. The lightly herbaceous, peppery and honey top notes are nicely complimented by a clean, mellow aftertaste. It is an unusual green tea that finely balances the characteristics of a light green tea with a flavoursome white tea. Grown at an altitude of 800-900 metres at a fully organic tea garden in Fuding, Fujian Province, it is made from a cultivar that is normally used for white tea. This results in a distinctive flavour with a pronounced woody edge.
In terms of leaf processing and quality, this Bai Mao Hou White Monkey green tea is definitely the closest green counterpart to our Golden Monkey King black tea from Fuding. The large wiry leaves are mixed with plenty of smaller tippy leaves that have white downy 'hairs', reminiscent of the hair of white monkeys. This similarity is the probable inspiration for the name for this tea.
Bai Mao Hou White Monkey green tea produces a lightly golden yellow liquor with a sweetly floral aroma. The taste has a pronounced woody profile that is most similar to white tea in flavour. The character is lightly woody and a little sweet. At the base there are sweet candy notes with top honey and herbaceous peppery notes that make these flavours a bit more exciting! Overall this tea has a light and accessible, smooth woody taste with a clean aftertaste that is not astringent or drying.
---
Previous:
Blooming Tea Love Heart
---
Write your message here and send it to us