White Dragon Pearls Jasmine Green Tea
Product Detail
Product Tags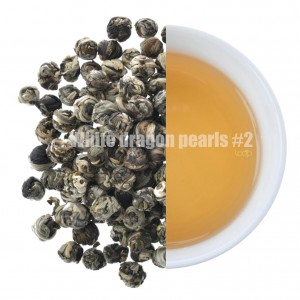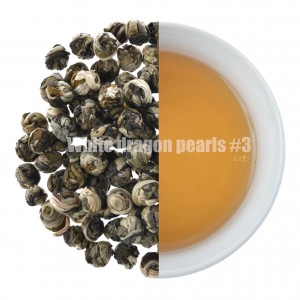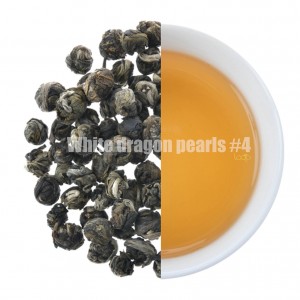 White Dragon Pearls is Fuding in Fujian Province, made from young buds and leaves that are rolled into pearls. It produces a light soft liquor with a lightly woody aroma. The tangy profile has notes of yuzu and hay with a clean, bright aftertaste, white dragon pearls consist of one bud plus one to two leaves, hand chosen during the picking process. The rolled silver pearls of this tea have a lovely fruity and floral aroma, producing a pale liquor with a faint woody fragrance. This tea has a very comforting and pleasing character that is smooth and light with a sweet fruity edge. The tangy profile has notes of yuzu and hay with a clean aftertaste that is bright and refreshing.
The leaves and buds are carefully hand-picked during spring. At the tea factory, they are dried on bamboo mats in the open air for three days then heated for several hours to achieve the desired dehydration. Th processing is simple yet the most difficult to perfect. The result is a lightly oxidized, sweet, floral, and fresh tea.
Jasmine scented tea was originally a luxury only available to the Emperor. During the Ming Dynasty, Jasmine Tea was fashionable and of great value. Chinese porcelain with flowers was first crafted for the elites. Visitors coming to see the Emperor were welcomed with Jasmine tea and its popularity first grew in China and then all over the world. Chinese people at home use Jasmine tea nowadays in order to treat their guests with kindness.
It is commonly accepted that the Jasmine plants were brought to China from Persia in the third century BC. Around 1200 years later jasmine plants together with tea bushes were part of the landscape in the Chinese Province of Fujian. Drinking tea surrounded by the jasmine aroma inspire the first scenting tea masters.
Green tea |Fujian | Semi-fermentation | Spring and Summer
---
---
Write your message here and send it to us